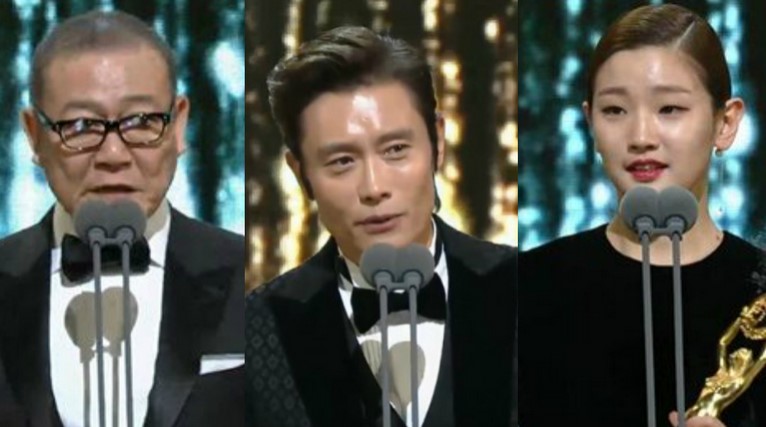 Hariannusantara.com – Bulan november nampaknya merupakan bulan yang dipenuhi oleh ajang penghargaan bergengsi bagi para idol dan selebritis Korea Selatan. Paslanya setelah beberapa waktu lalu selama dua minggu berturut – turut terselenggara ajang penghargaan untuk musisi Korea Selatan yakni Asia Artist Awards serta MelOn Music Awards 2016, Jumat (25/11/2016) malam lalu kembali hadir ajang penghargaan untuk insan perfilman Korea Selatan, yang bertajuk Blue Dragon Awards 2016.
Dalam penghargaan tersebut sederet nama tenar turut hadir untuk memeriahkan acara. Bahkan dalam red carpet sebelum acara dimulai nampakn banyak aktor dan aktris terkenal yang terlihat flawless menyapa awak media. Sebut saja Ryu Jan Yeol, Han Ye Ri, hingga Bae Doona.
Sejumlah kategori diperebutkan oleh para aktor dan aktris yang aktif dalam dunia perfilman Korea Selatan tersebut. salah satu film yang sukses besar dan memborong banyak penghargaan adalah The Wailing mendapatkan penghargaan terbanyak, yakni empat penghargaan disusul dengan Inside Men dan The Handmaiden.
Untuk melihat daftar lengkap pemenang Blue Dragon Awards, berikut list pemennagnya.
FILM TERBAIK
"Inside Men" – Woo Min-ho (Pemenang)
"The Wailing" – Na Hong-jin
"DongJu, The Portrait of A Poet" – Lee Joon-ik
"Train to Busan" – Yeon Sang-ho
"The Age of Shadows" – Kim Jee-woon
"The Handmaiden" – Park Chan-wook
SUTRADARA TERBAIK
"The Wailing" – Na Hong-jin (Pemenang)
"The Age of Shadows" – Kim Jee-woon
"The Handmaiden" – Park Chan-wook
"DongJu, The Portrait of A Poet" – Lee Joon-ik
"Inside Men" – Woo Min-ho
PEMERAN UTAMA PRIA TERBAIK
"Inside Men" – Lee Byung-hun (Pemenang)
"The Age of Shadows" – Song Kang-ho
"Asura: The City of Madness" – Jeong Woo-seong
"The Wailing" – Kwak Do-won
"Tunnel" – Ha Jeong-woo
PEMERAN UTAMA WANITA TERBAIK
"The Handmaiden" – Kim Min-hee (Pemenang)
"The Last Princess" – Son Ye-jin
"Worst Woman" – Han Ye-ri
The Bacchus Lady – Yoon Yeo-jeong
"Familyhood" – Kim Hye-soo
PEMERAN PENDUKUNG PRIA TERBAIK
"The Wailing" – Jun Kunimura (Pemenang)
"Train to Busan" – Kim Ee-seong
"The Age of Shadows" – Eom Tae-goo
"Train to Busan" – Ma Dong-seok
"Tunnel" – Oh Dal-soo
PEMERAN PENDUKUNG WANITA TERBAIK
"The Priests" – Park So-dam (Pemenang)
"Train to Busan" – Jeong Yu-mi
"The Last Princess" – Ra Mi-ran
"Tunnel" – Bae Doona
"The Wailing" – Cheon Woo-hee
AKTOR PENDATANG BARU TERBAIK
"DongJu, The Portrait of A Poet" – Park Jeong-min (Pemenang)
"The Net" – Lee Won-geun
"Insane" – Lee Sang-yoon
"Inside Men" – Jo Woo-jin
"One Way Trip" – Ji Soo
AKTRIS PENDATANG BARU TERBAIK
"The Handmaiden" – Kim Tae-ri (Pemenang)
"Spirits' Homecoming" – Kang Ha-na
"The Wailing" – Kim Hwan-hee
"Steel Flower" – Jeong Ha-dam
"A Break Alone" – Yoon Joo
SUTRADARA PENDATANG BARU TERBAIK
"The World of Us" – Yoon Ga-eun (Pemenang)
"Train to Busan" – Yeon Sang-ho
"The Priests" – Jang Jae-hyeon
"Familyhood" – Kim Tae-gon
"A Violent Prosecutor" – Lee Il-hyeong
PENATAAN MUSIK TERBAIK
"The Wailing" – Jang Yeong-gyoo and Dalparan (Pemenang)
"The Priests" – Kim Tae-seong
"Asura: The City of Madness" – Lee Jae-jin
"The Handmaiden" – Jo Yeong-wook
"The Age of Shadows" – Mowg
PENATA ARTISTIK TERBAIK
"The Handmaiden" – Ryoo Seong-hee (Pemenang)
"The Wailing" – Lee Hoo-kyeong
"Train to Busan" – Lee Mok-won
"Asura: The City of Madness" – Jang Geun-yeong
"The Age of Shadows" – Jo Hwa-seong
PENGHARGAAN TEKNIS TERBAIK
"Train to Busan" – Kwak Tae-yong and Hwang Hyo-gyoon (Special makeup) (Pemenang
"Tunnel" – Kim Nam-sik (Visual effects)
"The Handmaiden" – Jo Sang-kyeong (Costumes)
"The Priests" – Baek Sang-hoon-I (Visual effects)
"Asura: The City of Madness" – Heo Myeong-haeng and Choi Bong-rok (Martial arts)
SCREENPLAY TERBAIK
"DongJu, The Portrait of A Poet" – Shin Yeon-shick (Pemenang)
"Train to Busan" – Park Joo-seok
"Tunnel" – Kim Seong-hoon
"Inside Men" – Woo Min-ho
"The Wailing" – Na Hong-jin
EDITING TERBAIK
"The Wailing" – Kim Sun-min (Pemenang)
"Inside Men" – Kim Sang-beom and Kim Jae-beom
"Tunnel" – Kim Chang-joo
"Train to Busan" – Yang Jin-mo
"The Priests" – Sin Min-kyeong
SINEMATOGRAFI TERBAIK
"Asura: The City of Madness" – Lee Mo-gae and Lee Seong-hwan (Pemenang)
"The Handmaiden" – Chung Chung-hoon and Bae Il-hyeok
"Train to Busan" – Lee Hyeong-deok and Park Jeong-woo-II
"The Wailing" – Hong Kyeong-pyo and Kim Chang-ho
Baca Juga
Daftar Nominasi Mnet Asia Music Awards 2016
Sumber YG Entertainment Sebut Artisnya Tak Akan Hadiri Mnet Asian Music Awards 2016"
EXO dan BTS Menang di MelOn Music Awards 2016, Netizen Sebut MMA 2016 Tak Kredibel